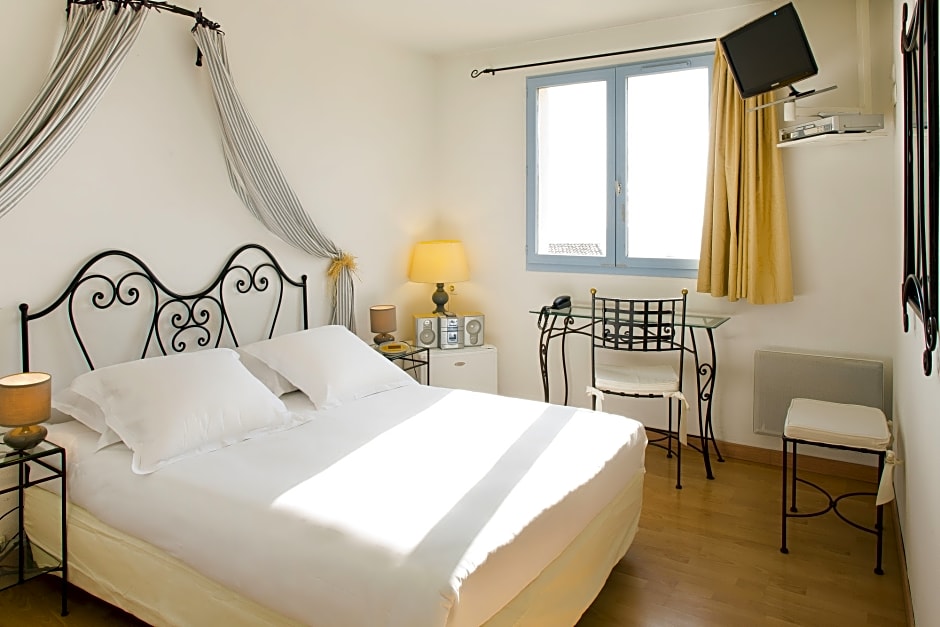 Hotel Le Patti boasts a prime location in Grasse's old town, nestled amidst the world-renowned perfume factories and in close proximity of the golden sands of the Cote d'Azur.

Guests can enjoy utmost in relaxation and experience a good night's sleep in one the 73 tastefully appointed en-suite rooms featuring modern amenities such as a mini bar, satellite television, telephone and wireless internet access.

In addition, guests can indulge with the delicious specialties served at the in-house restaurant before sipping an after-dinner drink at the lounge-bar. Events can also be successfully organised thanks to the fully equipped meeting rooms. Furthermore, the attentive staff is always available to assist guests with making their stay at the Hotel Le Patti a memorable experience in the South of France.
予約する方法
Hôtel Le Pattiで予約するのが簡単で安全でございます。ご希望の日付を選択します。そして、フォームを送信するために「料金を確認し」というボタンをクリックします。 客室タイプと料金はお宅の画面に戻った後で、画面の中央にある部屋の情報を読むと画面の右側にある「予約する」というボタンをクリックすることによって希望の料金を選択することができます。希望の客室タイプを選択した後で、「ご予約を完了」というフォームに転送されます。その時に「滞在の詳細」を確認して、「ゲストの詳細」という部分の空欄でご自分の詳細のことを書きます。ご自分の名前とメールアドレスが正しく入力されていることを確認してください。 すべての重要な情報を記入した後で、「ご予約を完了」というボタンをクリックしてください。ご自分のセキュリティを確保するために、私たちがクレジットカード番号を暗号化し、非使用可能な形式にエンコードする安全なコマースサーバーを使います。
地域情報
空港

Cannes, France (CEQ-Mandelieu)

- 7.98 mi

Nice, France (NCE-Cote d'Azur)

- 14.49 mi

Saint-Tropez, France (LTT-La Mole)

- 38.78 mi

Toulon, France (TLN-Toulon - Hyeres)

- 54.88 mi

ミュージアム

Musee d'Art et d'Histoire de Provence

- 0.23 mi

Musee International de la Parfumerie

- 4.48 mi

Museum of Photography

- 6.17 mi

Musee de l'Automobiliste

- 6.54 mi

Musee de l'Automobile

- 7.28 mi

Chateau de la Napoule / Musee Henry-Clews

- 7.95 mi

Musee de la Mer

- 8.07 mi

Musee National Picasso La Guerre et La Paix

- 8.55 mi

Musee Magnelli

- 8.55 mi

Musee de la Castre

- 8.69 mi

Musee d Histoire Locale et de Ceramique Biotoise

- 9.05 mi

Musee National Fernand Leger

- 9.77 mi

Musee de l'Art Culinaire

- 10.00 mi

Musee Picasso

- 11.19 mi